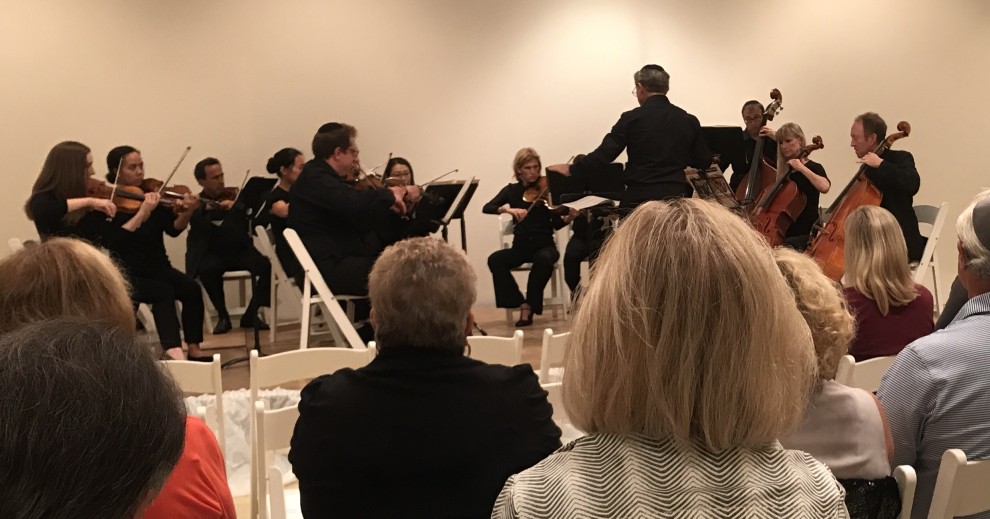 On Wednesday, September 6th, Alex Agrest conducted a string orchestra of the works of Dmitri Shostakovich and Victor Ullmann at BSBI. The event was made possible through the Freedome Reigns Festival and CJF's REMEMBER Program for Holocaust Education and Genocide Awarness. 
"Ullmann's music is his proclamation to the world and awakes us to unify in the fight for peace and love," said Agrest. "It is the greatest honor, mission and mitzvah to perform Ullmann's music today, when the world is struggling against all kinds of evil, haters, racism, and all kinds of discrimination." 
About Dmitri Shoshtakovich's Work
Shoshtakovich composed this string quartet in three days and it became one of the most popular and performed pieces in the world. Dedicated to the victims of fascism, there are many speculations about what this piece is written for, but it is obvious that it is about life and death and the future of the world; the expressive, emotional Jewish theme in the second movement connects it to the Holocaust.
About Victor Ullmann's Work
This outstanding work was composed in 1943 when VIctor Ullmann was a prisoner of the Nazi concentration camp at Theresienstadt. Ullman was deported to Auschwitz on October 16, 1944, where he died in the gas chambers. 
Thank You To Our Sponsors
Heidi & Barry Allen
Appel Vision
Sam Burns
Cindy Costa
Armand Derfner
Alan & Rella Eysen
​Harvey & Janet Freedman
Georges Loan Co.
Missy & Martin Gold
David W Ivey, DMD
Kahn Law Firm
Ann Mandel
Mike & Shirley Mills
Southeastern Facial Plastics
Pelican Pediatrics
Sam & Sarah Rosen
Herb Rosner
Joe & Frieda Sokol
Barbara Stender
Mark & Leigh Ann Taylor
Ijo Toporek
Law Offices of Robert Turkowitz
Dr. Karen Ullian
Uricchio, Howe, Krell, Jacobson, Toporek, Theos and Keith, P.A.

NEVER AGAIN BEGINS WITH US! If you are interested in supporting Holocaust education in the Charleston area, please visit www.jewishcharleston.org/remember to learn more or click here to make a donation today.