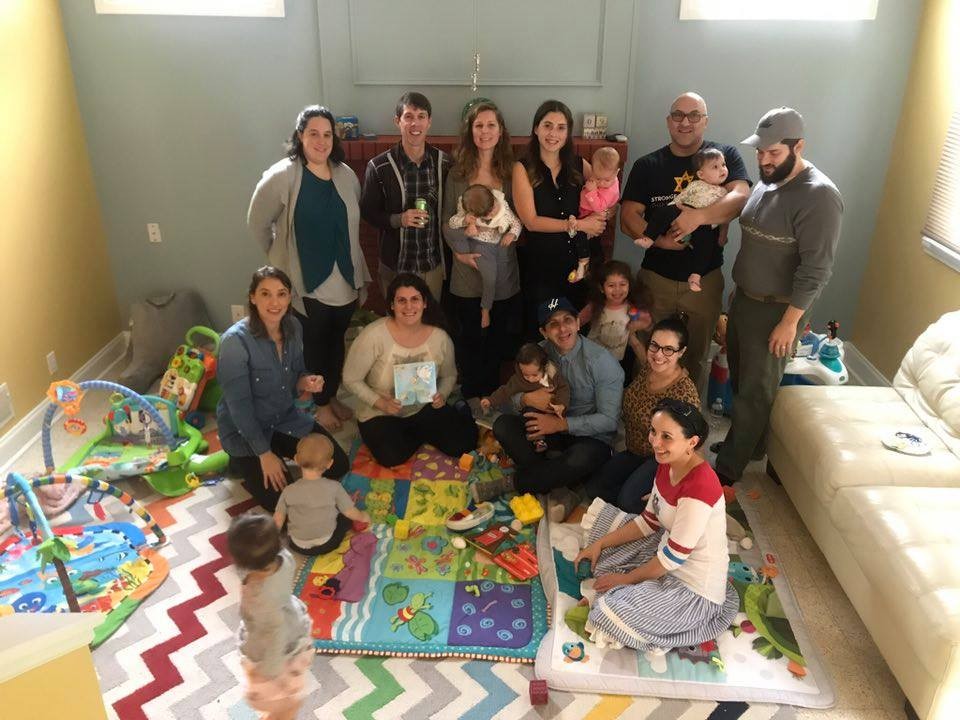 With PJ Library Grant renewed, CJF Continues to Connect Diverse Jewish Families; Strengthen the Jewish Community Across the Lowcountry
Families raising Jewish children across the Lowcountry will continue to have new opportunities to participate in Jewish life, thanks to a grant recently renewed by PJ Library, the flagship program of the Harold Grinspoon Foundation. PJ Library provides free books and programs to families raising Jewish children and grandchildren in five languages and over twenty countries.
After a year of success, Charleston Jewish Federation received another $8,000 to expand their PJ Library Connectors program to reach even more local families and strengthen the greater Charleston Jewish community.
Over the past year, the PJ Library Connectors program brought meaningful playgroups, engaging creative events, service opportunities and parent programs to the Charleston area. From public spaces such as libraries and playgrounds to family homes throughout the Lowcountry, 64 families from diverse Jewish backgrounds were unified by creative and fun Jewish events. These events celebrated Israel, Jewish holidays and Jewish values in age-specific ways, such as the popular preschool superhero themed Purim party at the Little Gym.
The program's success is credited to the practice of empowering local volunteers to develop and run these engagement opportunities for their peers. In return for their hard work, the Connectors receive leadership development opportunities.
"Charleston is honored to once again receive this grant and continue the shared goal of helping every Charleston family on their personal Jewish Journey," said Sharyn Bluestein, Charleston Jewish Federation's Director of Family Engagement. "With the Grinspoon Foundation's support, we are expanding our Connectors Program to meet the needs and wants of our local families.  Volunteers are the backbone of this strategy and actively engage with every age from our Shalom Baby and Shalom POP (preschool) programs to programs geared toward our grandparents to share with their grandchildren. Programming will also continue to expand into Summerville and the surrounding area to physically meet each family where they are. "
In a recent survey of the Charleston area families that participated in the PJ Library Connectors program, we learned:
100% of families reported that these programs supported their family in having conversations about Jewish traditions, values, and customs;
100% of families connected socially with a diverse group of Jewish families during these programs;
92% of families shared that these programs sparked an interest or involvement in other Jewish experiences;
92% of families expressed more connection to other Charleston Jewish families or the Charleston Jewish community after attending these programs; and
100% of families would recommend these programs to family friends
Part of a five-year strategy to expand Jewish engagement in North America, these grants are funded through the PJ Library Alliance. Partners in the Alliance are the Azrieli Foundation; Carl and Joann Bianco; the Crown Family; William Davidson Foundation; William and Audrey Farber Philanthropic Fund; Genesis Philanthropy Group; Diane and Guilford Glazer/ Jewish Community Foundation of Los Angeles; Jim Joseph Foundation; The Marcus Foundation, Inc.; Howard and Geraldine Polinger Family Foundation; Mike and Sofia Segal Family Foundation; Susser Family Trust; Walter, Arnee, Sarah, and Aaron Winshall; Zucker Family Foundation; and two anonymous partners.
To learn more about PJ Library, visit www.pjlibrary.org
To learn more or get involved with Charleston PJ Library, contact: Sharyn Bluestein, Director of Family Engagement, Charleston Jewish Federation: sharynb@jewishcharleston.org