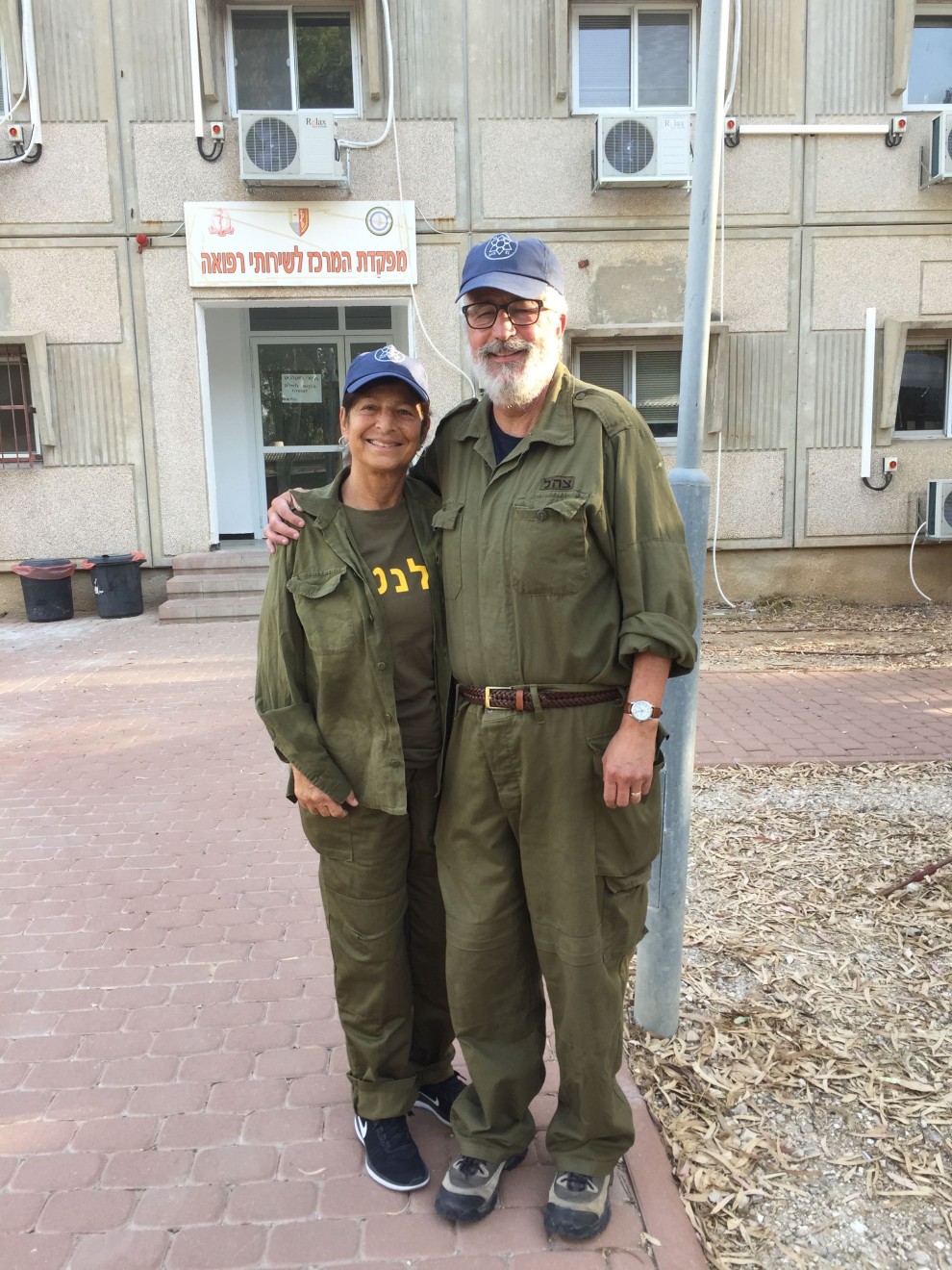 Those of you who know Lisa and Alan Isaacson of Mount Pleasant are aware of their wanderlust and their boundless curiosity.  In May volunteered to work on an Israel Defense Forces military base – foregoing all conveniences and comfort – to get a taste of Israeli military life, and to make a contribution to the IDF.  This is yet another way to get to know Israel from a "non-tourist" point of view – a way to make your own connections to the country and its people.
*****************
"Why would anyone on vacation rise at 6:00 a.m., work all day on an IDF base, endure spartan accommodations and army food- and pay to do it? Be a volunteer for Israel and you'll understand."
        This is what I read in the brochure from Volunteers For Israel, yet I still wanted to sign up. It felt right. Alan and I had been to Israel 5 previous times - always as tourists. We wanted to experience Israel in a different way - and this time did not disappoint.
          We had to complete a long application, which included a signed medical form from our doctor, as well as a phone interview. As soon as we were approved, we booked our flights to Tel-Aviv. Within a few days, we received our Handbook and packing list. Off to Wal-mart we went with our list. Since we would be living on an army base, we had to bring our own sheets, towels, and even pillows.  I never went to camp as a child, but this seemed a lot like it. The only thing we didn't have to do was write our names in our clothes.
            As soon as we passed through Passport Control at the Ben Gurion airport, we took a deep breath and wished each other luck on our upcoming adventure. We were immediately whisked away by one of our midrachot (female soldier who was our leader). We were told which base we would be going to, which was only 20 minutes  southeast of Tel-Aviv. The other 4 people with us were all repeaters in the program - among them a Brit, a Canadian, a French woman and a Floridian.
             We lucked out, as we were in the Ritz-Carlton of the bases. We were led into a building that had just been renovated. The men were on the first floor, and the women on the second floor. There were 18 women on my floor. Apparently, our entire group of 33 was unusually large.
           We soon discovered that we were one of the few who were there for the first time. I was impressed by hearing how many times these people had done this program. One woman goes 2-3 times in a year! 
           Next order of business was getting "fitted" for our uniforms. They come in two sizes: too small or too big. The good news? None of us looked good in them. 
            The base we were on is the largest medical supplier in the country. We were assigned to different "managers" within the complex of small warehouses, and were put to work immediately. We emptied and filled medic backpacks, and boxes with medical equipment. I am proud to think that the next time I see Israel be a first responder for a disaster (e.g., earthquake in Haiti) that I helped pack the medics' bags! 
             Breakfast was at 7:15 and plentiful. We then gathered at 7:45 to stand in formation and raise the Israeli flag, followed by singing of Hatikvah in Hebrew. After that, the madrichot read us news headlines from the world, and made announcements. Off to work we went, until lunch time at noon. 
            I have to admit lunch was quite delicious. Was not expecting that. Three entrees (one of which was a vegetarian option), many side dishes and numerous salads. It was hard though to go back to work at 1:00 after eating so much. Interestingly, we never saw sweets like cookies or cakes as a choice. We usually worked until about 4 or 4:30. 
           We had free time until dinner at 6:00 - the only meal you did not have to wear your uniform to. Our free time was spent resting, doing laundry or showering. Dinner was always light, followed by a program. We saw a couple of movies about the army. We had one evening where we learned about the different divisions of the army. Quite interesting.
             We were off from Thursday morning until Sunday morning. A bus took all of us back to Tel-Aviv and made several stops. Some people went to Jerusalem. Others visited family or friends nearby. On Sunday morning ,we all met the bus to take us back to the base and we went and worked half a day.
             On our last day, we did not work. The bus took us all to the Palmach museum for a special exhibit. Amazing and so worthwhile. Then we were once again dropped off at various points in the city.
             As to be expected, we met some wonderful people from all over the world. I was amazed at the general age of the volunteers - mostly in their 70s. Then there was Joseph, who is 91 years old! There he was in his uniform, working along side of us. An amazing man who is really a role model for everyone. Another very special thing was that I was able to say kaddish for my father in the Bet Knesset of the base. Alan led it and 15 people came. I invited everyone to a "Kiddish" afterwards (aka dinner). It was a moving experience for sure.
           If this sounds like something you would be interested in, you should definitely do it. It's a once in a lifetime experience. The program is for one, two or three weeks. Most volunteers go for 3 weeks. You'll find out what great shape you are really in!
*****************
If you are interested in experiencing Israel off the normal tourist path – or if you are a first-timer and indeed want to see the important sites that Israel has on offer for you – please know that the Charleston Jewish Federation is here to help you design an experience that you will never forget!  We can inform you of the wonderful places and people that you can see and meet, and help you have a meaningful Israel experience that is all your own.  Please contact Rebecca Engel for more information on Israel travel: rebeccal@jewishcharleston.org